Sanzhanping "Nectar Rhythm" Limited Organic Oolong Tea - Winter 2015
Taiwan Sourcing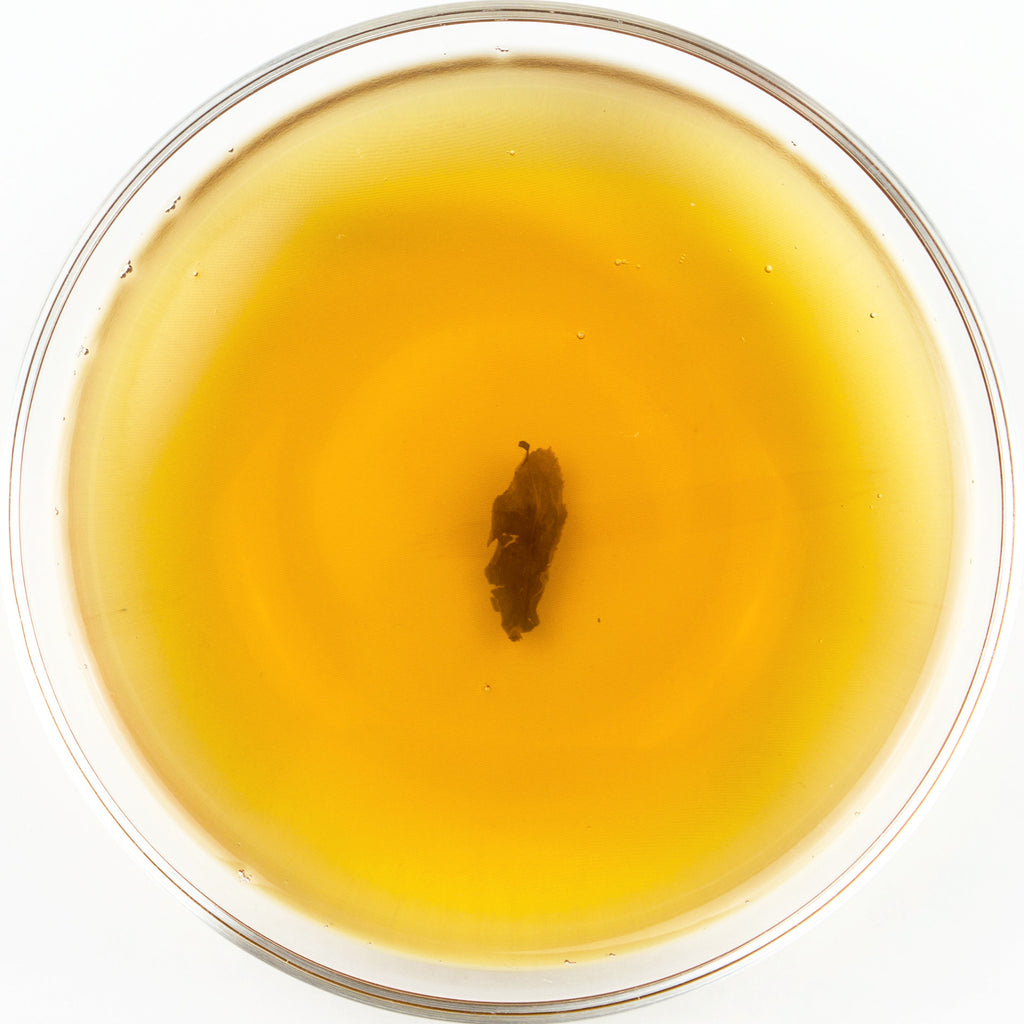 With a super heavy oxidation almost like black tea, this tea has transformed our impression of high mountain oolong tea from the crystal jade oolong standard to a brave new world or sweet dark goodness.  From the first sip we knew we had an obligation to offer this tea to our esteemed customers around the world!
Since the plantation is being organically cultivated, and was "blessed" with warm winter weather this year, the plantation of our "Nectar Rhythm" suffers from the attack of leafhopper heavily, and hence the character of this tea bears resemblance to Oriental Beauty, but comes from an elevation that is way higher than where Oriental Beauty is typically grown. The result is a powerful nectar aroma with sophisticated flavor and an extremely durable body.  The elegant nectar aroma literally explodes, enveloping the drinker it's sweet warm embrace!
Harvest:  Winter 2015 / 冬 貳零壹伍
Varietal:  Qing Xin Oolong / 青心烏龍
Elevation:  1700 M / 仟柒佰 公尺
Region: Sanzhanping / 三棧坪
Oxidation Level:  80 % / 分之 捌拾
Roast Level:  0 / 無
 Wow!  After drinking this tea several times I find myself waking in the morning and having it be the first thing I think about.  I just want it all the time.  I even eschewed Pu-erh on many occasions for this tea (and felt guilty).  It's got so much flavor and aroma.  It just takes over your senses in the best way possible and takes you on a luscious journey of pleasure and indulgence.  Honey sweetness, thick, fruit, floral and much more.  The aroma is pungent and fills the room.  This is my favorite Winter 2015 tea from Taiwan Sourcing (sorry Lala Shan)!
 I brewed this tea gongfucha style on a wintery early evening after some rain in Northern California...The wet leaf aroma reminds me of a healthy candy sweetness.  Almost decadent. Flavors slowly emerged in the first few quick steeps, and then really opened up on the palate by the third. It has a tender sweetness yet is rich and full bodied.  The potency is very clear and high mountain strong...By round four I began thinking it might have been better to drink this tea in the morning.  But I figured it could also be solid fuel for sitting quietly. After enjoying many rounds I could definitely see an oriental beauty tea in comparison but I taste a whole different kind of loveliness in reality.  This is a tea worth your time for sure.  
 As an old dog that has been a huge fan of oriental beauty oolong for quite a while, this "Nectar Rhythm" surprised an old dog very very very much. An old dog cannot believe this is a heavily rolled oolong at the very beginning, because how could those little grass hopper flew that high in the winter? Then an old dog realized this had been a relatively warm winter in 2015 that made this extraordinary tea so special. Powerful "bug bitten" aroma and body made this oolong a rare and delicious treat from the bottom of the tea cup which everyone will not just enjoy, but also being awed by the wonder and power of nature.