Tanliao Natural Farming "Azure Amber" Oolong Tea - Summer 2021
Taiwan Sourcing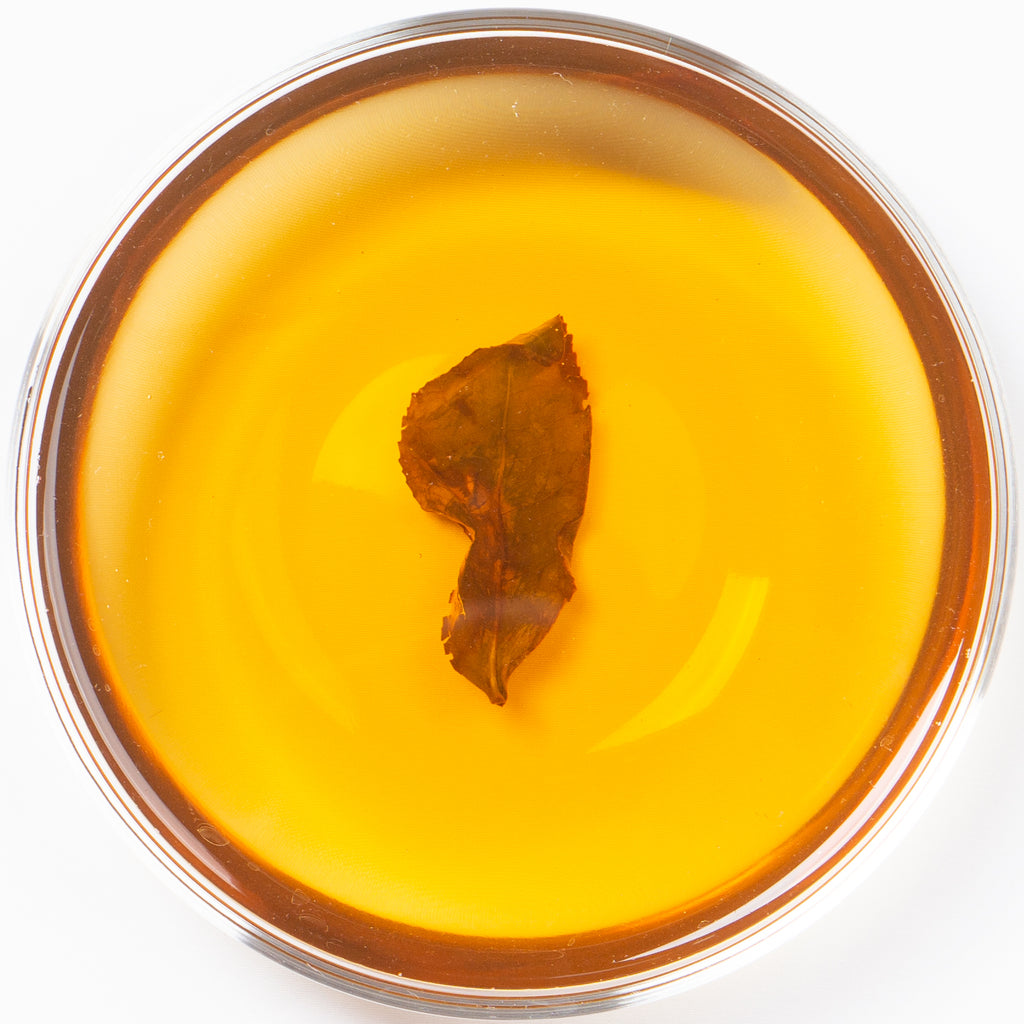 With the success of "Azure Jade," it became very tempting to us that processing another batch is inevitable. However, with naturally grown plantation, spring harvest was too small to even a production, and thus for the missing of spring harvest. 

If you imagine Mingjian township as a circle, you will find Tanliao village southeast corner of that circle. Mingjian is quite a big and diverse place for tea growing. At every slope and hill there is a micro-climate and terroir of its own.
This varietal is very distinctive to say the least. Unlike super popular Jin Xuan, which has a original codename "2027," this "2028" was a forgotten varietal that used the exactly same paternal inheritance like "2029," which commonly known as "Cui Yu" in the market. As a result, this "2028" is like the older brother of Cui Yu, but shown completely different characteristics from Cui Yu. Sadly, the official institute did not find the characteristics of 2028 "particularly interesting," so at the start of 1990s they only chose 2027 and 2029 to promote with by giving them the now famous names. As for the 2028, it was abandoned and forgotten in the history.
Fortunately, some farmers saw the virtues in this unique varietal, and decided to keep it in their own plantation. Mrs. Tsai and family have been guarding this varietal since the birth of it, and had it managed wonderfully. Compared to Cui Yu's heavier profile, 2028 carries a much more elegant note like Ying Xiang #20 varietal, and therefore created this elegant style as a tea. Since this varietal does not have a proper name like its siblings, we asked around our friends about their grandmothers' name to find inspiration. At the end we discovered this beautiful name "Yuli" (玉瓈), which literally means "jade and coloured glass."
Like "Aura Jade" of this summer, this "Azure Amber" applied our new processing to its core. This enhanced the "body feeling" part of the tea to a new level. This will be a great companion to "Azure Jade" as winter is approaching very soon. 
Harvest:  2021 Summer / 貳零貳壹 夏
Varietal:  2028 Yuli / 貳零貳捌 玉瓈
Elevation:  350 M / 參佰伍拾 公尺
Region: Tanliao Village / 炭寮村
Fermentation Level:  35% / 分之 參拾伍
Roast Level:  2 / 貳 分 
 Waiting water for boiling......
 There is a kind of elusive experience that underlies my motivations for supporting this preservation and evolution project our Old Dog is spear heading. A few words to describe this experience is "soul tickling" - a kind of joy that somehow surprises one back to the senses joyfully. This tea has it. I enjoyed it both grandpa style and gongfu with consistent soul-tickling flavors.
 Summer teas are always interesting to work with, and it may become an old dog's most curious season due to how ignorant an old dog is when it comes to summer harvest. This 2028 was an attempt to explore the possibility of summer material. It taste certainly different from spring or winter, but feels a bit different as well. This might be a great tea after six of aging, and an old dog is looking forward to that.