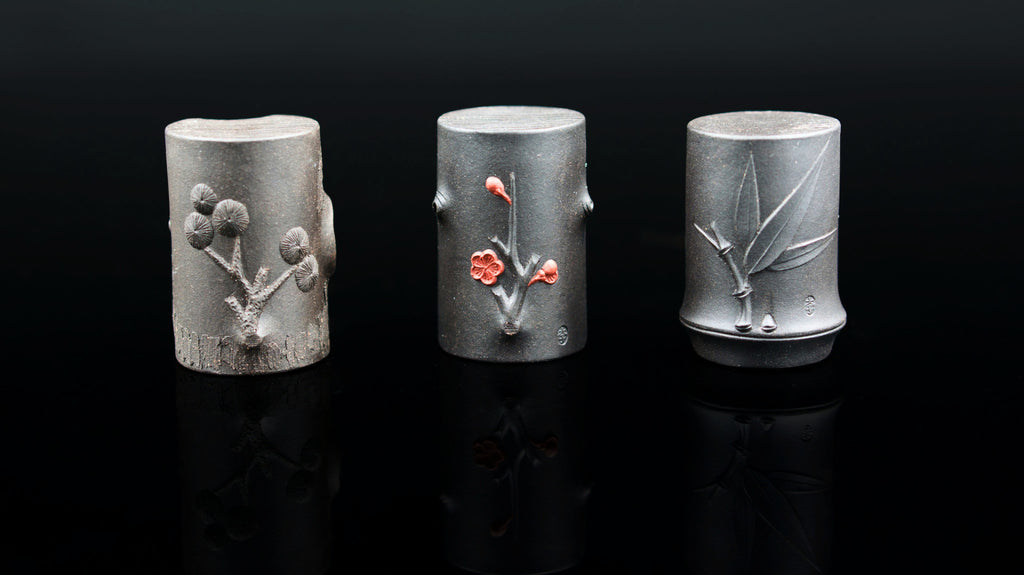 Being small and simply, this is probably the most neglected but useful item in the world of tea. The greatest idea often come from the simplest design, and these cute lid places we are finally offering is the best footnote for that philosophy. A lid of a teapot is often the easiest part to be damaged while handling a teapot. It is often radomly placed on a flat surface of your tea space and being dropped or smashed because there is no place created to secure it. With this handy item in your hand, such ideal could finally come true and greatly decrease the change of having a "incomplete" teapot. 
The theme of these three lid places, despite being "small," represents the traditional Chinese concept of "Three Friends in the Winter" (歲寒三友). The three friends are "Pine," "Bamboo," and "Plum." The reason for them being the "friends" of winter is because of their toughness and freeze bearing capability. Such qualities make them still able to grow and flourish in the cool environment, making them the symbols of the "ideal gentlemen" among ancient Chinese intellectuals.
The material of these three lid places were mainly made from "Black Iron Sand" (黑鐵砂), an famous type of Zisha ore originated from Huang Long Mountain. Notice that the "Plum" one has three red plum petals flower it, this part was made from "Red Clay" (紅泥), also the most common Zisha ore from Huang Long Mountain. 
Height: 4.5 cm
Diameter: 2.7 cm