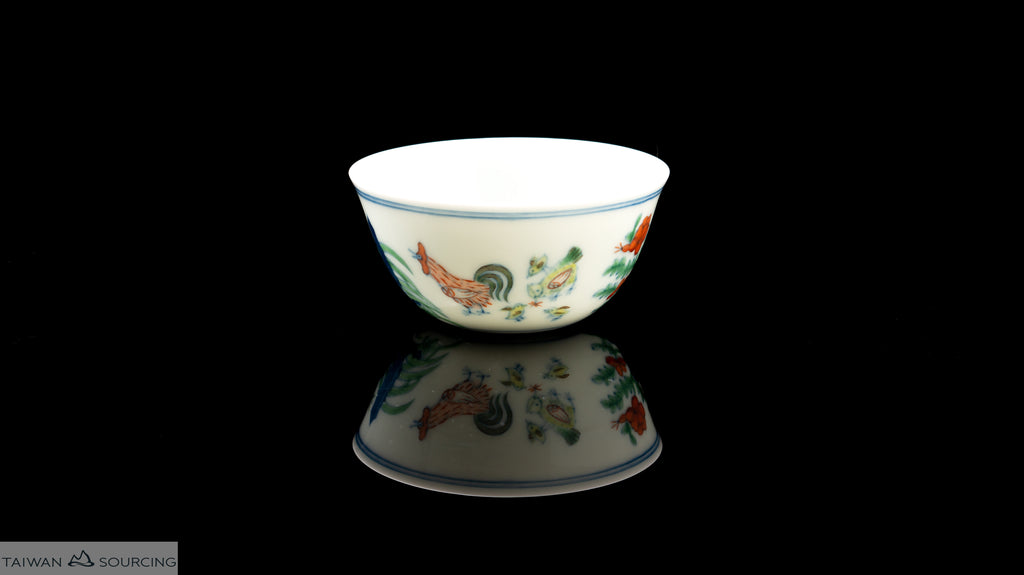 This is possibly the most famous auction piece ever known to the public market due to its incredible high dealing price at a whopping $US 1.6 million. The famous "Chicken Cup" was a widely used royal piece in the palace of the Ming Empire, and commonly distributed to the harem at its time for liquor drinking purpose. The theme of "hen enjoying life with chicks" is a representation to inspire the concubine of its time, and a reminder of the joys of being a mother. 

Chicken Cup is artistically known for its early doucai (鬥彩) technique, which is a unique representation of Ming's aesthetics philosophy. To make the cup lively with the limitations of porcelain paint at the time, the artist initially put the first layer of blue-white paint on the bone of the cup which also served as a blueprint outline for the later colouring area, then fired it with the first layer of transparent glaze. This is why you will observe the blue-white paint part has a softer and lighter hue to it. After this part is finished, the artist then began to paint the second layer of colour, which is the more colourful part of the whole structure, then fired it at a relatively low temperature to make sure the ore paint can become properly attached to it and last for a very long time. This carefully curated technique is the key why such type of work still has its liveliness even after 500 years of history. 
"Yin Qiao Shan Fang" meticulously re-creates the spirit of this "legendary" cup with their own touch. Not only was the doucai technique properly demonstrated, but the entire piece also added the aesthetics philosophy of the modern day under master Li's careful curation. This cup is not just a lazy replica of such iconic porcelain-ware. It carries the soul of what a "Chicken Cup" stands for, and successfully brought that spirit to our modern daily use. This is an remarkable achievement, even by the royal standard of the 15th century. 
Here we used an original piece from Chenghua era (shown on the left with red tone, an even rarer Chenghua piece) to compare the authentic spirit of the re-creation of such iconic piece. You will notice the cup created by Yin Qiao Shan Fang captures the essence of the original to its heart, and we hope you will enjoy this cup for a very long long time just like the original.
Glaze Type: Chenghua style doucai / 成化鬥彩 
Quantity: Cup x 1 / 雞缸杯 一只
Height: 4.1 cm (1.6 in)

Diameter of rim: 8.3 cm (3.3 in)