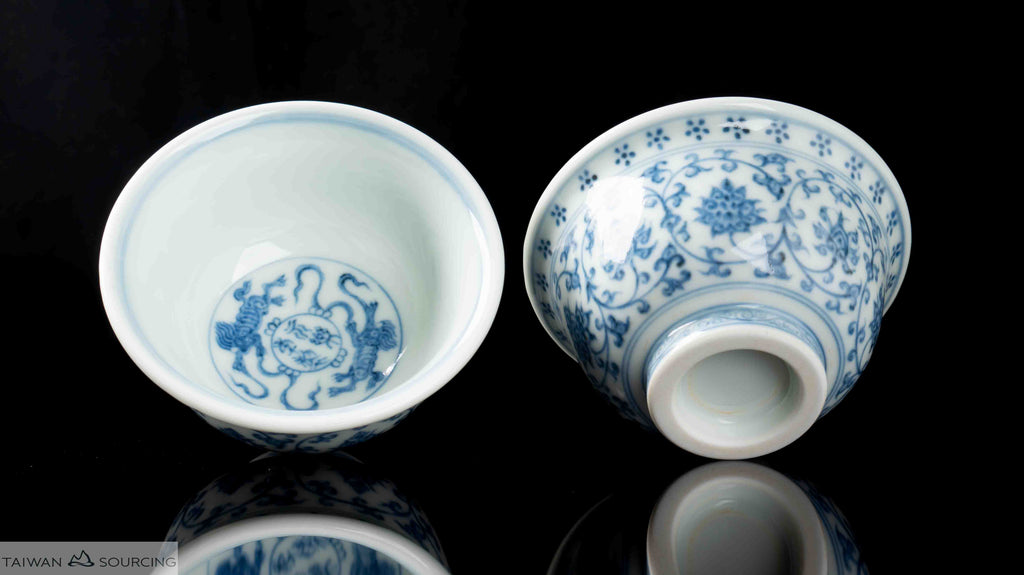 Decorated with a passiflora pattern on the exterior, these uniquely shaped cups have often been forgotten by the western world due to scarcity. However, its importance was crucial to the development of porcelain-ware development of the Ming era, which later influenced the aesthetics of porcelain for hundreds of years. Welcome, to the mesmerizing world of porcelain. 
Press-Hand Cups got their name due to their unusually heavy looking shape. This shape gives a sense of heaviness when held in the hand, along with the high density of the material being used. To the general public, there are only three officially-recognized pieces. All three pieces are kept behind glass in famous museums. Because there are no records of world breaking auction prices being made on them, press-hand cups are not as famous as the "Chicken Cup" from the later Chenghua period. However, they are considered to be the first cups to have era marks painted on them, symbolic of a critical development in the history of Chinese porcelains.
Now let's move our eyes to the pattern on these cups. A symbol of classical Ming era porcelain decoration, this pattern is called passiflora because of its resemblance to the beautiful passion flower. These curious pieces carry this significant pattern on the exterior, while bearing the Yongle era mark inside, showcasing the cultural capital of the Ming imperial household. The pattern that goes around this mark normally has three styles, which are "Double Lions" (雙獅), "Floral Heart" (花心), and finally "Mandarin Duck" (鴛鴦). Here we see two of those three - "Double Lions" and "Floral Heart" to present to you.  
While they bear the Yongle period mark, we believe that these pieces were likely produced in the mid-20th century. Purchased from a private collector, these excellently made Press-Hand Cups were crafted with impecabble material and outstanding craftsmanship. Drinking tea with them is not only a joy for the eyes, but most importantly a joy for the tastebuds. Tea becomes thick yet silky smooth, which is the dream character for any tea lover to own and pass down to the next generation. 
Cotent: Single cup / 單杯
Interior Stamp: Year Yongle Made / 永樂年製
Glaze: Blue & white / 青花
Mouth diameter: 9.2 cm / 玖點貳 公分
Foot diameter: 3.8 cm / 參點捌 公分
Height: 5.2 cm / 伍點貳 公分
Weight: 151.5 grams / 佰伍拾壹點伍 公克
Volume: 60 ml / 陸拾 毫升