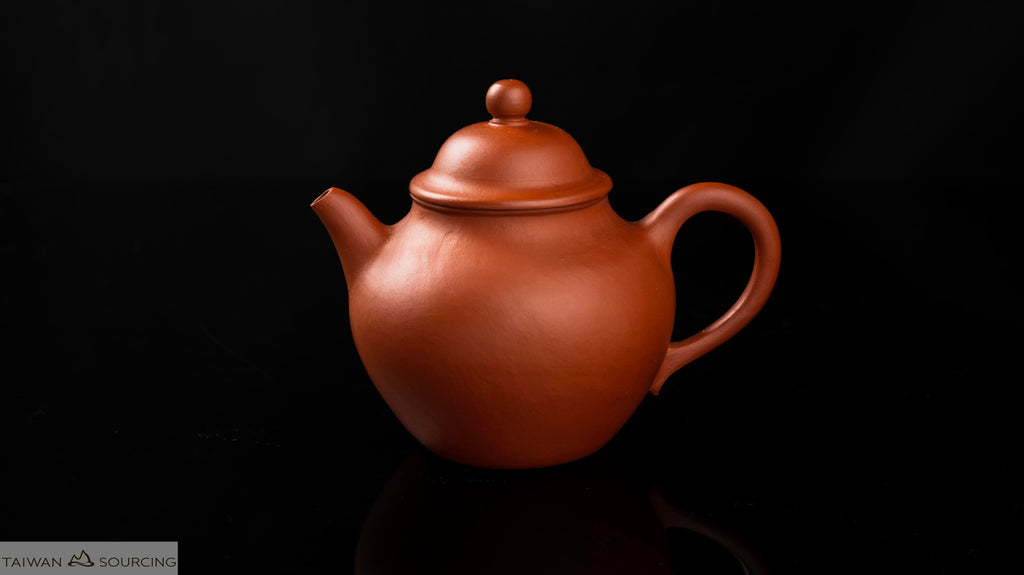 This is part of the early Yixing series we will be offering, mainly consisted of early to mid 20th century pieces which used superb quality clay compared to modern day standard. We wish this series will give tea lovers an opportunity to learn and enjoy the beauty of Yixing clay. Why and how Yixing material was able to capture the heart of teapot lovers for hundreds of years, and have first hand experience with the unique texture Yixing clay could offer before it entered the post-modern era.
Autumn Water style is a classical design which could be dated back to the mid 18th century. It was said to be designed by the Ming Era master "Hui Meng Chen" (惠孟臣) as part of the "level" (水平) collection, although the actual designed was never really confirmed due to the incomplete historical record. The name "Hui Meng Chen" could belong to an artist, or even a "brand" at that time. This fact has always make teapot that has a classical "Hui Meng Chen" design covered with a chiffon of imagination. 
The origin of the name "Autumn Water" is much disputed, but some people think the name was inspired from its "water-like" handle design. This theory has never been officially confirmed by any information. Moreover, another type of teapot "Lotus Seed" (蓮子) often share the same "water drop" like handle as well. As a result, such claim might be inaccurate to the origin of its name.
To find a more believable story of its origin, we must again take a look at the history. The earliest record of "Autumn Water" was found in a book finished in 1876 written by Japanese collector Gen-Po Oku (奧玄寶, 1836 ~ 1897). Mr. Oku was a successful entrepreneur at the time, and was a connoisseur of Chinese arts. This book has a type of teapot that resembles the shape of our modern "Autumn Water" named "Unfettered Dandy" (逍遙公子). At the bottom of this teapot has seven characters carved as "八月湖水平 孟臣," which literally translated to English means "Autumn Lake Standard Level Men Cheng." As a result, the name "Autumn Water" should originally indicates feeling of the "calm lake in Autumn." As time passed by, the artistic conception of "Autumn Lake" was gradually washed away, and finally got replaced by a more modern and elegant name "Autumn Water" instead.
It is also worth noting that before the appearance of modern "standard level teapot" (標準水平壺), such a teapot like "Autumn Water" was considered as one of the traditional "standard level teapots" universally.
The clay used to make this teapot is apparently a demonstration of some early clay recipe. What you are seeing here is not the pure Zhuni that people normally see on our website or other places. A little known fact is that, to give pure Zhuni a definition, it indicates clay that was formed from 100% pure Zhuni ore, normally "yellow stone yellow" (黃石黃) to begin with (Here we say "to begin with" due to the fact that there are some other Zhuni ores which is not yellow stone yellow, but we will leave that for another post). However, in ancient times, to make a teapot purely from Zhuni ore was basically impossible due to the characteristics of the clay, and therefore Zhuni ore was mainly used for "coloring" or "texturing" when it came to the clay recipe. A brief example will be blending some proportion of Zhuni (朱泥) clay into Red Clay (紅泥). 99% of the so-called Zhuni teapots were made in this way in the past. If there was at least a bit of Zhuni material, then it was called Zhuni clay.
However, tempting as it may be, we will not call this teapot a Zhuni teapot. Just like the "Julunzhu" we have demonstrated elsewhere, this is an early blending recipe. However, this "Autumn Water" pot used a higher proportion of Zhuni material, giving to the final form of the teapot a classical texture called a "wrinkling pattern" or "shrinking pattern" (收縮紋). This piece is a lovely demonstration of a Repblican era piece that anyone could enjoy as a part of their teaware collection.
Mineral: Red Clay blended with Zhuni ore / 紅泥 拚 朱泥系
Mineral Location: Pan Zhao Zhuang and Huang Long Mountain / 泛黃龍山 與 趙庄山
Firing Temperature: 1100 c / 仟佰 度
Shrinkage: 12% / 分之 拾貳
Crafter:  Autumn Water / 秋水
Volume:  140 ml / 百肆拾 毫升