Baigushan Organic "Crown of Sapphire" Oolong Tea - Winter 2022
Taiwan Sourcing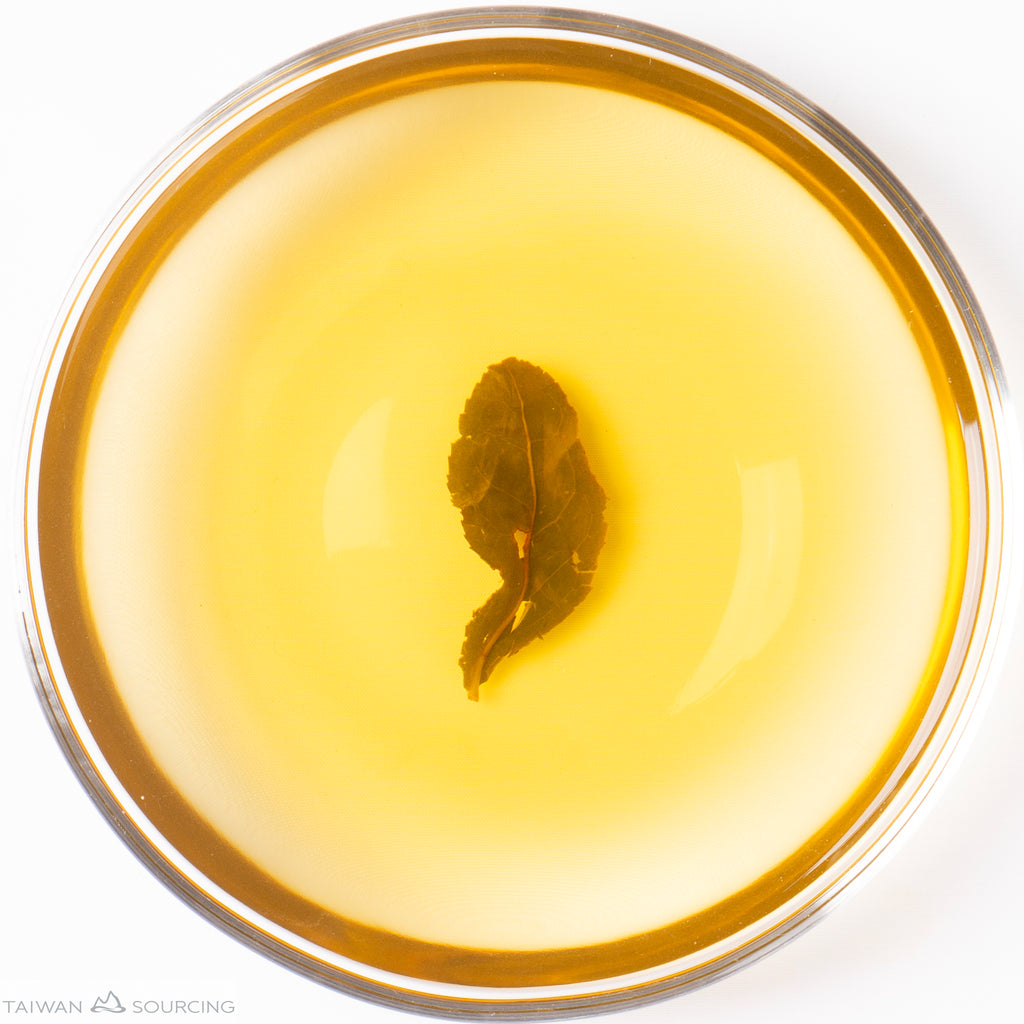 We made this tea right after the exhasuting Wu Yi processing, this new batch from Baigushan plantation has fully recovered its original potential this season just like what "Lily Cream" did. Welcome to the new era of the "Sapphire" series.
The main peak of Baigushan, otherwise known as Mount Baigu, towers over the village of Hongxiang at an elevation of 3,341 meters. A little over halfway up the mountain are a small collection of farms growing tea, and the one that agreed to work with us this year is one of the highest. The tea bushes were planted in a small clearing surrounded by tall and stocky conifers. Facing downslope, one was offered views reaching far south across Taiwan's Central Mountain range. It was more than spectacular could describe.
Working on a plantation like this is always tricky to the processor. On the one hand we know the full recovery of the land may never happen; on the other hand plantation like this has just the right terroir to make statement in today's tea world. Thanks to the diligence of Su family, our bet was the right one. The plantation this year generates the right amount of energy we had been hoping for, and allowed us to make so far the most robust and powerful "Sapphire series" in the line even after the battle of creating Wu Yi oolong and Wu Yi black tea at the same time. 
We are proud to present this "Crown of Sapphire" to you just like we did with the "Lily series" from Zhushan. These plantations inspired confidence in the work we have been doing and the direction we have been aiming. To revive the land through our journey around Taiwan through time and space while delivering the most comfortable tea is certainly not a easy task, but this "Crown of Sapphire" proved how invaluable that is when we are drinking it.  
Harvest:  Winter 2022 / 冬 貳零貳貳
Varietal:  Qing Xin Oolong / 青心烏龍
Elevation:  1950 M / 壹仟玖佰伍拾 公尺
Region:  Baigushan / 白姑山
Fermentation Level:  35% / 分之 卅伍
Roast Level:  2 / 貳 分 
 Waiting to brew......
I truly love the teas our old dog is making from Baigushan. This winter "Crown" is no exception. Classic flavors of Qing xin, purity in clear sense, all around lovely and affordable tea. The winter rhythm of this tea isn't overt but undulates for the perceptive. There's just a lot of value in such a clean and comfortable, almost 2000 meter elevation oolong, enjoy it.
 Since the black tea version of this season's Wu Yi is going to be released quite lately, an old dog is just going to reveal what is behind the scene. This "Crown of Sapphire" was processed on the same day as the black tea Wu Yi, which meant we had to travel immediately from Mingjian to the deepest valley in Taiwan just to process another batch of tea. The Wu Yi black tea this winter is going to be very different from any other Wu Yi in the past, however due to labor arrangement we are still waiting for it to be de-stemmed, all an old dog can say is it will be amazing. Back to this Baigushan, it is a truly amazing tea as we can feel how the land was revived in the past couple years. The body is now very robust compared to those from the past, and so does the aroma. This is one of the best examples of high elevation oolong tea that would not hurt anyone's stomach. Please enjoy it with us together~!