Daan Natural Farming "Formosan Keemun" Oriental Beauty Oolong Tea - Winter 2022
Taiwan Sourcing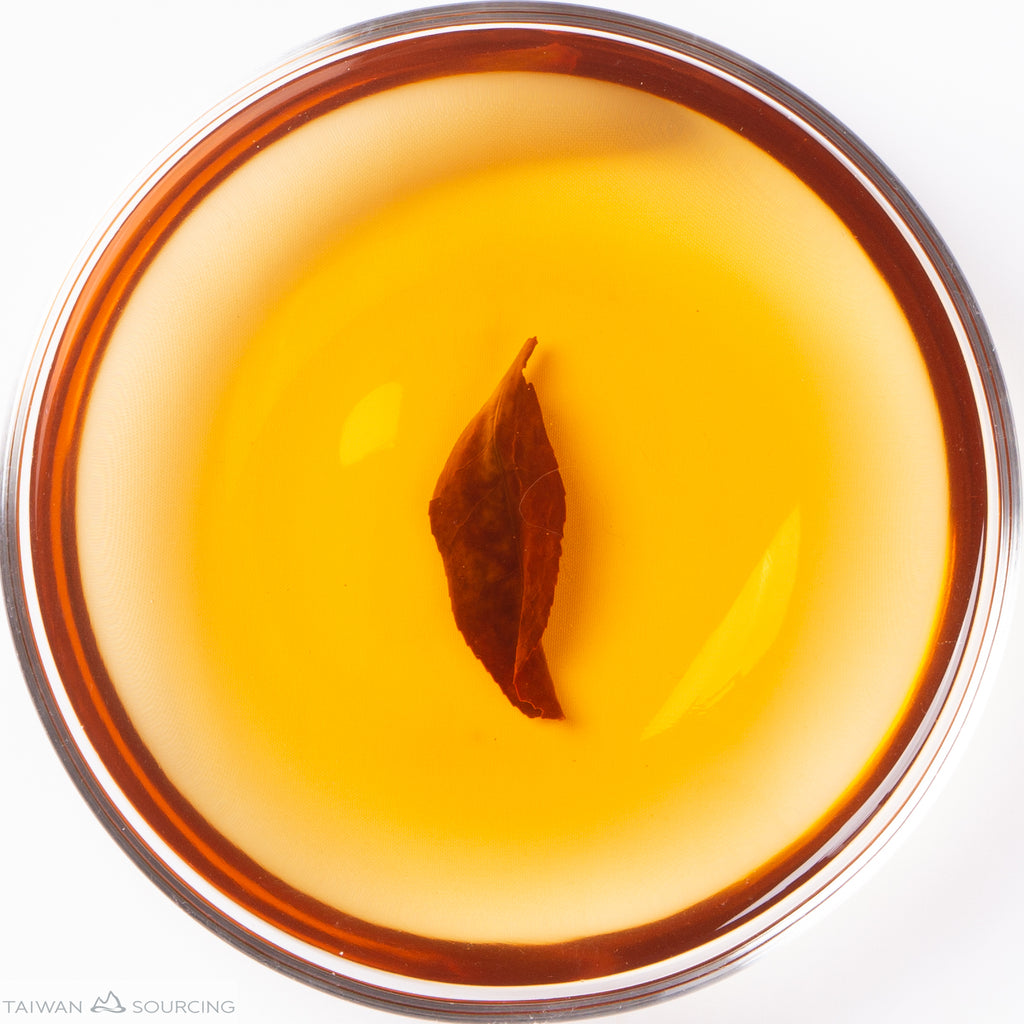 As you may already observed in the photo, this is an unusual looking Oriental Beauty. The leaves are way larger than the tender form we are used to, making it looks more white tea like instead of the traditional Oriental Beauty tea. Much like "Jadeite Rock," we obtained this tea by mere luck. 
Thanks to Mr. Luo's magic, he managed to organize a squad of pluckers to go to this plantation even though there were not much to work with. Normally, it is impossible to assemble a squad of pluckers if the yield is this low, but Mr. Luo cleverly arranged their schedule to pluck the material anyway. This gave us a precious opportunity to have a glance at this mysterious new varietal "Kee Rhythm," aka TTES #23.
Unlike many of the new varietals from the Institution, this varietal is not a "hybrid" like Jin Xuan or Cui Yu. This varietal is a pure breed from the Keemun black tea trees from China after decades of selection, and was published to the market in 2017. Since then we were trying to find the clean material that could be processed by us. Fortunately Mr. Luo, the farmer who helped us creating "Cobalt Crystal," also had this varietal grown in his other plantation in the Daan region. Under his full support, this tea was allowed to be born.
The finished tea demonstrated a strong relation with its ancestor. This is, so far, the deepest new varietal being developed by the Instituion that we know of. Due to long withering and our exclusive processing, this supposed-to-be black tea varietal performed in a very soft way in the cup which was unexpected. However, it has surprising way of flow in the body that is unprecedented. It has the depth of the arbor tea material we worked on before while giving us an entirely new experience when savouring it, as the feeling would go up and down along the spine. 
A marvellous existence we wish you may join us in experiencing.
Harvest: Winter 2022 / 冬 貳零貳貳
Varietal: TTES #23 Rhythm of Kee / 台茶  廿參號 祁韻
Elevation: 1150 M / 壹仟壹佰伍拾 公尺
Region: Daan / 大鞍
Fermentation Level: 60% / 分之 陸拾
Roast Level: 1 / 壹 分
 Savoring......
 This is certainly a unique one. Mixed character leaves that are surprisingly durable and love boiling water.
It resonated a bit like a raw puerh with some oolong fruity curiosities that then steeps surprisingly softly.
It's a tricky tea to pin down for sure, singular to itself, you'll just have to try yourself.
 As many great teas as the team had created, this tea is something absolutely different from the past.