Fanbaoshan Organic "Pacific Nectar" Bug Bitten Oolong Tea - Spring 2019
Taiwan Sourcing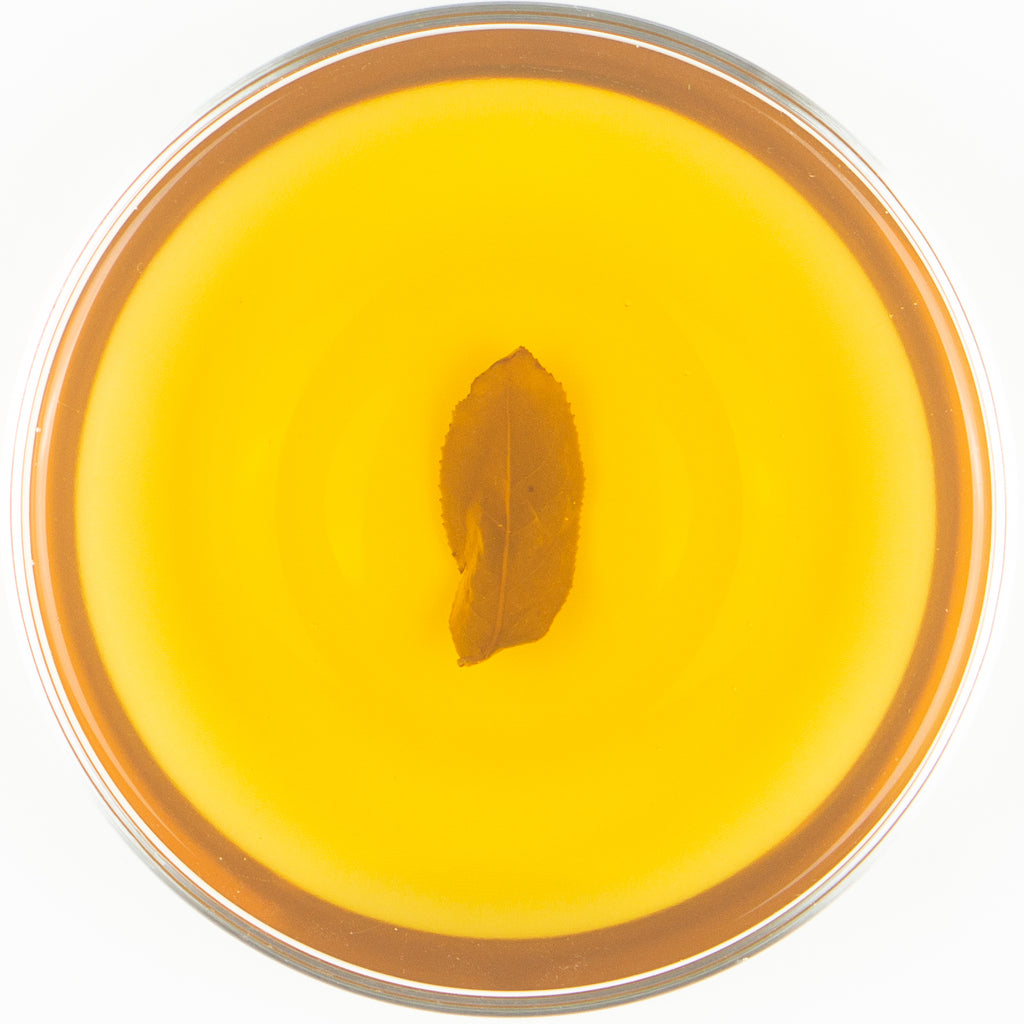 Like its cousin, this Qing Xin Oolong is grown at Fanbaoshan as well, which is a mountain that could only be reached from Nanou, a small fishing town located at the northeast part of Taiwan. However, this is a Qing Xin Oolong varietal. The plantation could be seen in this video if you are interested to see how we got there.
We had a fortune to try the 2018 version of this Qing Xin Oolong, and it has a very unique terroir like the Tie Guan Yin varietal that grows next to it, so we decided that we must process this tea with our technique this year. 
This tea was processed a day before the plucking of "Pacific Petal," and we fortunately had a pretty decent weather condition this day, so the processing was not as tough as "Pacific Petal" on the second day. There was a good feeling that this tea was going to be special, and it proved that we were right with a big surprise.
This is so far the strongest "bug bitten" material we have ever encountered. Its strong honey alike aroma could be immediately sensed once heated. Under our traditional processing and charcoal roasting refinement, this tea reaches a level of perfection in both aroma and body. Such opportunity is very rare to us, and we are glad that this superb material was not wasted at all. 
If you are wondering why some tea lovers are so mesmerized by the "bug bitteness" of little grasshopper, this tea will make you feel that joy and power, and wish one day to share with others who may not know yet. 
Harvest: Spring 2019 / 春 貳零壹玖
Varietal: Qing Xin Oolong /  青心烏龍
Elevation: 1100 M / 壹仟壹佰 公尺
Region: Nanou area Fanbaoshan / 南澳 飯包山
Fermentation Level: 35% / 分之 參拾伍
Roast Level: 1 / 壹 分
 This tea just blew me away... everything is perfectly balanced.  The roast perfectly complements the bug bitten character of tea to create something incredible sweet and smooth with a fruit/honey character.  The aroma is powerful and expansive!  Incredibly smooth and complex tea that goes 10+ steeps.  It's worth every bit the price you'd pay for this delightful tea!
Truly remarkable honey and nectar sweet aroma from the dry leaf, preheated vessel and throughout the bewing. Exquisite from the moment you smell the leaf, you just have to experience it. After tasting many bug bitten teas over time, this is exactly what I'm looking for. Peak honey sweetness that hugs your senses. Alongside the honey is spice and fruity citrus that build a complex profile. At one point I thought I was smelling apple cinnamon honey 'tea'. The flavors are brewable depending on style. Playing with water and temps is every gongfucha lover's joy. Classic tasting set style revealed a lot of potent sweet, spice and tangy vegetal flavors. There is a center to the tea which coherently unifies all the dimensions. I'm super curious about aging this one.....given the superb artisan quality.
 An old dog really has zero idea how an organic plantation got bug-bitten this strong, maybe just by the blessing of nature it guesses. Before we processed this tea we were just looking for the interesting terroir Fanbaoshan carries thanks to its isolation and remoteness. Nobody could expect such surprise of bug-bitten. This is also the first time we got a chance to process a bug-bitten tea material, which makes the whole event even more meaningful. An old dog hopes you will share this tea with your loved one, and let them know how special Taiwan can be when it comes to tea.